November 18, 1984
- The Bombers defeat the Hamilton Tiger-Cats 47-17 to in the Grey Cup. The game was played in Commonwealth Field in Edmonton. Hamilton set a Grey Cup record for the fewest rushing yards in a final game: 24.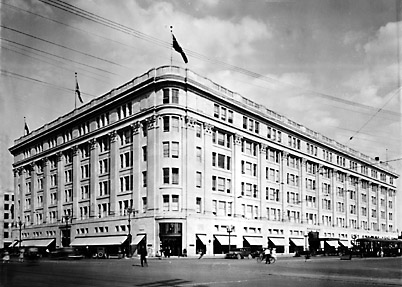 November 18, 1926

- The Bay's Portage and Memorial store officially opens for business at 9:00 am. The ceremony included George Galt, HBC Board Member, using a golden key to unlock the Portage Avenue doors.
Featuring a dozen elevators, air conditioning and an internal power plant 50 feet below ground, the Bay's flagship store was a marvel of the times.
For more on The Bay Downtown.
November 18, 1914 - The luxurious Olympia Hotel opens on Smith Street

in the midst of a recession and on the eve of war. The venture soon failed and it was taken over by the government for use as temporary quarters for troops heading to war.

It reopened in 1923 as The Marlborough

.