July 15, 1870
- The Manitoba Act receives Royal ascent making Manitoba the fifth province of the Dominion as Canada's fifth province. The original boundaries were 1/18th of what they are today earning us the nickname "the postage stamp province."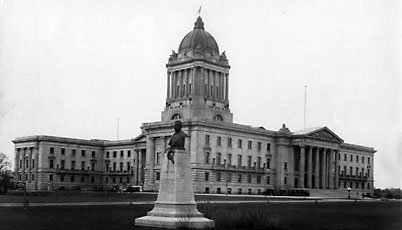 July 15th, 1920
- After years of scandal the
Manitoba Legislative Building
finally opens.
July 15, 1905
- Eaton's hosts a VIP sneak peak of their Portage Avenue store a week in advance of the grand opening.



July 15, 1970

- The Guess Who play a four-set show at the Hollow Mug Restaurant. It was part of a youth celebration dinner attended by Price Charles and Princess Ann. Two days later, the band again played for the Royals, this time at the White House.
July 15, 1942
- The Winnipeg Tribune reports on the three most recent Manitoba deaths of World War II.
July 15, 1910
- Eugene Ely finally gets his biplane off the ground to make the first flight in Western Canada. Due to strong winds, however, the flight was a quick one and not seen by many.
For more on the first flight.
July 15, 1968
- Manitoba Hydro's first rate increase in 57 years takes effect. The 6% increase went toward building corporate reserves.