1920 Winnipeg Falcons:
Robert Benson, Walter Byron, Frank Fredrickson - Captain, Christian Fridfinnson, Magnus Goodman, Haldor Halderson, Konrad Johannesson, Allan Woodman, Lou Marsh - Manager, Herbert Axford - Coach, Bill Fridfinnson - Secretary, Gordon Sigurjonson – Trainer. (Source)
April 26, 1920 - The Winnipeg Falcons win the first
Olympic Gold Medal for ice hockey in
Antwerp, Belgium. The team was made up mainly of Icelandic immigrants and their descendants from around the West End.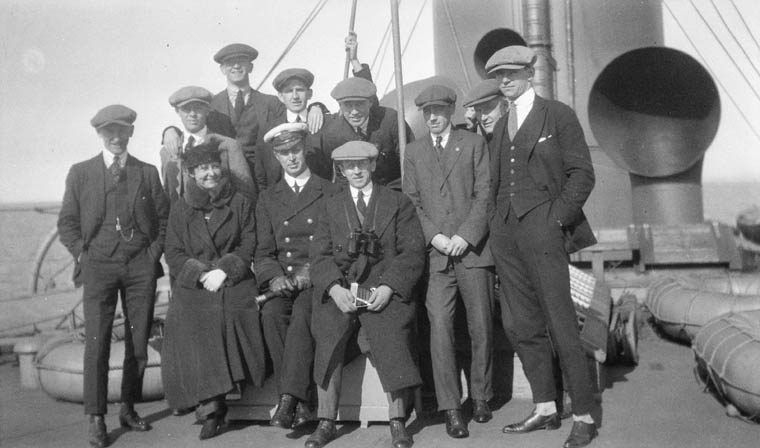 "Officer with members of the Winnipeg Falcons Hockey Team, aboard R.M.S. Grampian en route to the VII Olympiade, Belgium." Source.
Despite the fact that many looked down upon Icelandics as near the 'bottom of the barrel' of immigrant groups, stereotyped as uneducated and impoverished, the city as a whole celebrated their victory:
"

The victory of the Falcon hockey team of Winnipeg over all-comers at the Olympic tournament at Antwerp is a matter of pride for all Canadians, and for Winnipeg people especially. The Falcons, representing the Dominion of Canada, have demonstrated to the world the stuff of which young Canadians are made

"
Free Press Editorial, April 28, 1920
Their achievement was largely forgotten until a resurgence of interest in 2001, the year Manitoba hosted the World U-17 Hockey Championships. The federal and provincial governments recognized the families of Falcon members and Team Canada dedicated the tournament to the 1920 team.