October 19, 1884
-
Joseph Edouard Cauchon
, Lieutenant-Governor of Manitoba, opened:
"The new Cauchon Block, one of the handsomest and most substantial in the city... contains eight stores, 6 on Main Street and two on York Street. Each store is 25 by 80 with plate glass fronts. There are some fifty offices in the upper flats.The building is to be heated with steam. There is an elevator ... and altogether the edifice is a decided acquisition to the city. The shops are adapted to either a wholesale or retail business"
Manitoba Free Press, February 7, 1883
At a cost of $150k it was intended to be a commercial building but opened during a slowdown in Winnipeg's economy and there was trouble filling it. After a couple of years Cauchon was forced to sell. The new owner reduced rates and began renting the offices out as apartments. This strategy proved more successful and in 1896 extensive renovations were done and the building was re-opened as The Assiniboine Block - Winnipeg's first apartment block.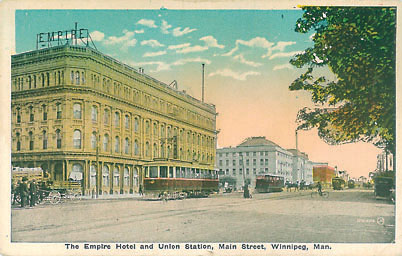 In 1904 the building underwent another major renovation took place to convert the building into a hotel. The Empire opened in February 1905 as Winnipeg's first class hotel.

As the decades passed so did the fortunes of the Cauchon Block / Assiniboine Block / Empire Hotel. It was demolished in 1981 and is now the Via Rail Station surface parking lot.


On February 18, 1976 the mostly cast-iron façade of the building was declared a provincial heritage object and has rested in a city warehouse for decades. Some parts have been put on display such as in the Centre Culturel Franco-Manitoban.
For more images of the Empire:
-
U of M Building Index
-
Heritage Winnipeg
(enter Empire in search box)
-
Cauchon Block
- MHS Essay