March 23, 1914

- The Scott Block fire at 272 Main street injures dozens of people. For more about the Scott Block.

March 23, 1952 - Winnipegger and Chicago Black Hawk Bill Mosienko scores three goals in twenty-one seconds against the New York Rangers. It is still an NHL record.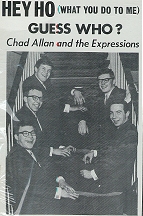 March 23, 1943

- The Guess Who's Chad Allan is born in Winnipeg as Allan Kowbel. Image from, and a great gallery at, Hillman Web.
March 23, 1988

- Louise Staples dies. As a teacher at Greenwood school in 1935 she was tasked with finding a safer way for children to get to and from the school. The Safety Patrol program she created was soon adopted by many inner city schools and, eventually, across the county. (For more.)