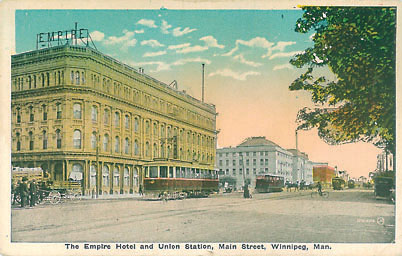 February 2, 1905

- The Empire Hotel opens on Main Street.
It was constructed in 1883 as the Cauchon Block, an office building. A couple of years later it was renovated into Winnipeg's first apartment block. In 1904 the McLaren Brothers purchased it and converted it into a high-end hotel. The Empire was demolished in 1982.
February 2, 1931
- Northwest Airways resumes international passenger and mail flights from Winnipeg to Pembina, North Dakota.
They provided brief service in 1928 but stopped at the request of the Federal government.
February 2, 1929

- Donald Rope is born in Winnipeg. Playing hockey for the Kitchener-Waterloo Dutchmen, Rope won two medals for Canada at the Winter Olympics: a bronze at Cortina d'Ampezzo in 1956; and a silver in Squaw Valley in 1960.
February 2, 1932

- Joseph Verhoski, a 34 year-old Polish labourer, is hanged in Headingley for the robbery and murder of Peter Demchyshyn.
In mid-October 1930 Demchyshen's car was found abandoned on a road near Winnipegosis. A week later his body was found nearby in a shallow grave.
A year later, Verhoski, who had previous run-ins with the law, was arrested for weapons-related offences and was sentenced to a stint in the Portage Jail. Shell casings from the sawed-off shot gun he was arrested with matched the casings found on the road near Demchyshen's body. New charges were laid and he was sent to Dauphin for trial.
He confessed to an officer that he had blocked the road with poles which caused Demchyshyn to get out of his car. The two men struggled and the ' shotgun went off' killing the man. The coroner, however, said that the shots were fired from a distance and could not have taken place in a struggle.
After an hour the jury returned with a a guilty verdict and a death sentence.
Verhoski was uncooperative at his trial, even refusing counsel at times, and was emotionless during the sentencing. His final words on the gallows: "

Goodbye everyone. Goodbye Captain Stewart

" (his Salvation Army escort.)
February 2, 1930

- William Forbes Alloway dies. He was a partner in the Alloway and Champion bank. After the bank was sold to the Bank of Commerce he donated $100,000, (about $1.25m in 2010 dollars), in seed money to help establish the Winnipeg Foundation.
For more on Alloway and the Winnipeg Foundation.
February 2, 1951 - Mayor Coulter cuts the ribbon to open Orioles Community Centre.



February 2, 1921

- The Dingwall building at 62 Albert Street goes up in flames. For a history of the building.